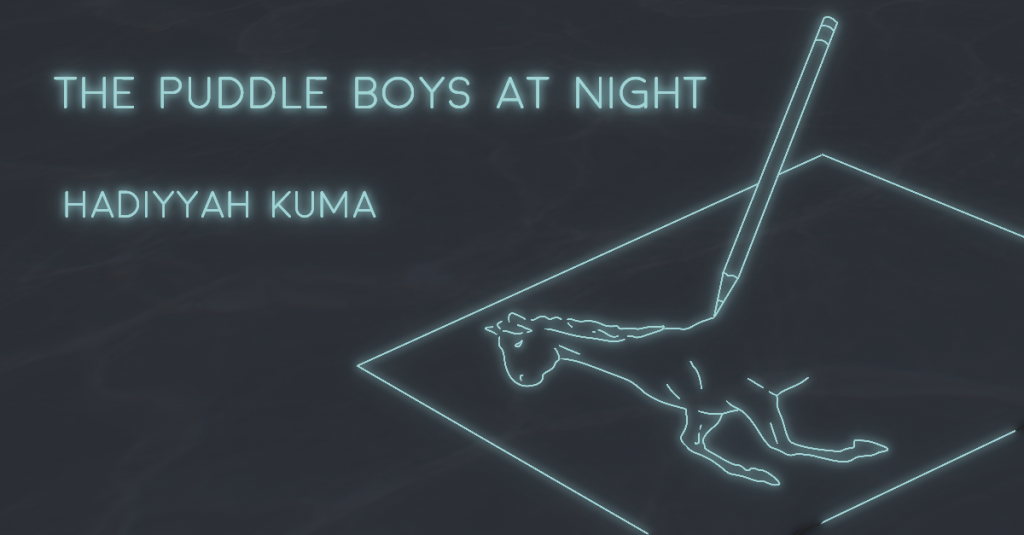 Though dripping a little, the puddle boys are no longer melting. It is late nighttime. They don't have to sleep because there is nowhere they have to be for now. They hope they never have to sleep again, but of course this is idealistic. The puddle boys know this too, but it is nice to ignore, it is nice to be fully conscious and in love. Crossing the street is the best excuse for holding hands. Cars echo away from them; some move through and splash people's face. Everyone forgives them. The puddle boys' backs become green then red. Their hair moves with the wind, so moved, it sheds a tear. 
*
The puddle boys drip into a cookie dough shop and practice spelling each other's names. 
"Devonte."
"Rehan."
"De-von-tay," blows Rehan. 
"Ray-han," giggles Devonte. 
The puddle boys tingle as their spirits align and their skins connect. They pass breath between each other. Devonte is excited about mint-chocolate cookie dough and he peruses the menu for a price. Rehan waits patiently behind him with a strawberry sharpie. As Devonte orders for the both of them, Rehan sneaks the marker under Devonte's shirt and writes, "sanctuary." Devonte ripples and shimmers. 
The server says the cookie dough will take a few minutes; there was not enough mint left, and she has to get some more from storage. 
"Can I hold the bags under your eyes?"
Devonte considers this and sees a horse outside, muddling through the street with a police officer on his back. "I could never draw a horse." 
"I never cared for horses very much. I like seashells." Rehan knows that to be an artist one does not have to know how to draw horses. He reminds Devonte of his beach painting, of the way the seashells seemed to be sharp, yet malleable. How it seemed like a prize just to kiss the hand of the artist who made the world look soft again. 
Devonte describes the feeling of being artistically inadequate as building a house with smaller bricks than everyone else, but the house has to be even bigger than every other builder. "It's okay if you don't understand what I'm saying." 
Rehan sits on the floor because he understands perfectly. The tiles are a jade-blue and white checkered pattern. They're not innovative, but their simplicity gives the puddle boys a place for standing water. Delicate in their way, the puddle boys hug the grooves of the floor and change the subject. They are masters at subject-changing. They tell each other all kinds of things about shoe sizes and pony rides and simulated car rides at their respective local malls. There is always something new to talk to about. Water accumulates behind Rehan's nose each time Devonte says the word, "probably."
The puddle boys talk big, and soon they are shouting but not at each other, as the woman who entered the cookie dough shop would like. She has a son, he is young and smiles at the puddle boys. The woman's thumb is ready on the record button of her phone. There is no drama to see. The puddle boys shout different animals' names, but it's not a spectacle; it's two boys shouting about animals. Rehan touches Devonte's laugh and there is no obstacle. Rehan likes donkeys and Devonte likes cows. These are their favourite animals. 
*
From the outside the store glows white, and an accountant in his office across the street sips his coffee, rubs his eyes, checks his phone for missed calls and finds none. There is a text message that reads: have you eaten today behta? He texts, yes Ma, and puts the phone out of sight. He sees two boys yelling without making a sound. It's not a dream. He would like to watch them forever but knows this will always be impossible.
*
Rehan has Devonte's dark circles in his palms as he licks the cookie dough. A park bench at night becomes a test site of resilience because it's not clear or dirty; it's just somewhere to spread and spill. The puddle boys are even darker than before, their calves resting on each other like no simile can describe. It takes forever for a streetlight to come on, but it does. "Your tongue is my fire," exclaims Rehan. 
Devonte chews slowly, watching a man pee behind a tree. "I'm so glad I'm not that tree," says Devonte. "I'm so glad I'm not that man," says Rehan, "Alhamdulillah." "Thank you, Jesus," says Devonte. The puddle boys unlearn all the rules and discuss how trees can grow both up and down, but also side to side. They can break through and out of the earth, but they can extend as far as they want to go. It is hard to see the trees in this light. The puddle boys' eyes are glinting, illuminated the worn skin around their cuticles. 
Devonte sucks in the air to feel the mint aftertaste cool his mouth. "You can give them back now."
Rehan places his palms on Devonte's eyes and returns to him the dark circles. 
*
The streets flex upward and back down again as Devonte and Rehan flood them. Love is big, and there are not a lot of places to hide it. An avenue opens into an alleyway, and the puddle boys crouch behind a crate of onions. They breath droplets and exhaust are the friction in each other's collarbones. The world's heat is turning thick and orange. It is not a good sign. 
Devonte notices something behind Rehan's hair. It is a carving made by a key or sharp fingernail. It reads, "Baby Boy and Baby Girl for life babyyyyyyy." The many Ys lump in Devonte's throat because he has too many wordless questions. "I wish I could last a day," he says. 
Rehan agrees. "I wish I could own a body."
"It's not the same as having," says Devonte. "I'd build a city of Lego for you."
"Build me legs and arms too, so that I have the strength to build you a better one."
*
A tall man arrives. He smells like Vicks medicine, and he sweats out violence and cuss words. He mumbles, "goddamn" and "motherfucker of Jesus." Tightening the grip beneath his shoes, he lifts the crate of onions onto his right shoulder and carries it away as if it were light. 
"I don't like men who say 'goddamn'," says Rehan. 
"I don't like men who make heavy things look light," says Devonte. 
"You are the best."
"No, I feel myself giving up."
The cement is a lighter shade. The avenue closes again, and there is nowhere to be but in the bright. Car windshields flash fire into everyone's eyes. A cellphone reflects the light, piercing Rehan's chest. He wobbles but is still breathing. "I feel myself giving up." Devonte holds him by the waist.  It is not easy to keep going when the dawn is so violent.
*
The sun becomes hotter and people pour into the street. Devonte and Rehan are smaller than they've ever been. They share memories of the night so as not to lose its darkness. They subject change to the red lights into green lights and green lights into yellow and then back again, and there are cows, but they are all sick and no milk can be obtained from them. The city is thirsty, and so it becomes careless. The puddle boys grow angry, but never at each other because they have hope and that deflects rays, sometimes. They start to yell again, but no one hears them. They try to laugh, but it is difficult with disappearing chests. There is another police horse, and the puddle boys hide under a car to avoid his hammering hoofs. Weight like that is definitive destruction. The streets flex downward and there is no stopping them. 
"There is nowhere to hold you anymore." The puddle boys' backs are missing. All that's left is the beginning of a name.