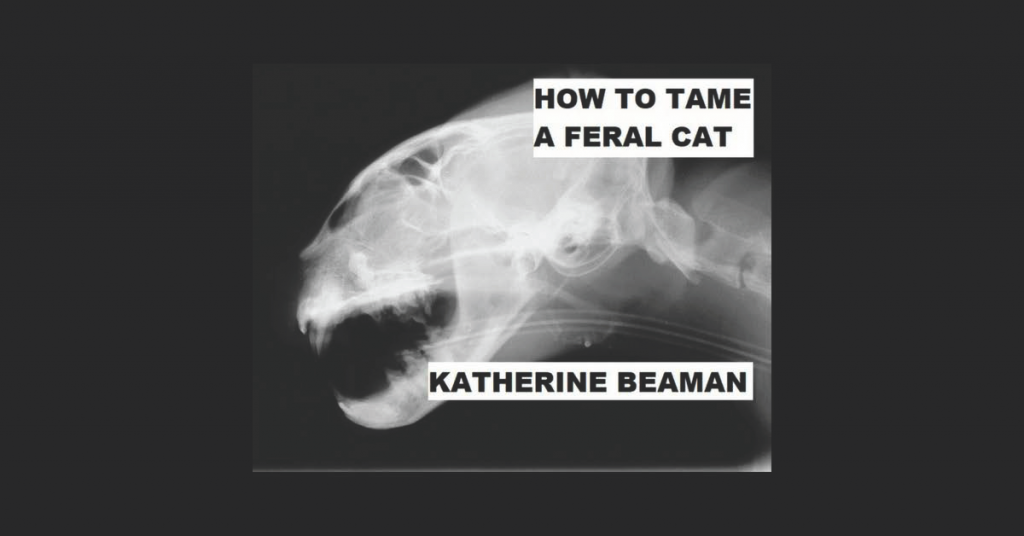 It was a point of personal identity for Lula that she refer to no plant as a "weed" and refrain from assigning labels of "good" or "bad" to any creature. Her property: a lot which was adjacent to her daughter Valerie's own house, and on which sat a mobile home with two attached porches and a mess of plant matter almost entirely obscuring it. Corpses, or almost-corpses, of junebugs lie scattered and belly up all over.
Many an afternoon, Lula would study the cat the hung around by her fence. She would glance over at him from her chair on the porch as she took a sip from her glass of iced tea and ate her morning toast. Sometimes, she'd stand up from a gardener's squat to wipe sweat from her forehead, look over at the cat, and test out kissy clicky sounds on him. The cat would slink around, dotting from here to there, always keeping an eye, as cats do. After this went on for some time, Lula made the decision to befriend the cat. She set a can of vienna sausage on the porch.
Flies darted around the can on that muggy morning of that summer. Many of the flies resolved to stay and loiter in the ripe aroma, such that the joint became a full-on insect and feline cantina. What if the flies wore wife-beaters, the way they hung around like men outside a gas station? Suppose the cat pulled together enough change for a can of beer! With each new morning came new charities from Lula and the cat began to develop something resembling trust in her. After his alert posture slacked, Lula managed to trap the cat into a carrying cage which was onced used to carry her guineas (who had long since become breakfast for the local coyotes). Valerie never learned to tell the difference between the howls of coyotes and dogs.
Summers like these, in this place, have always been violent. There is a constant rhythm of swatting, biting, itching. Your own sweat falls into the corners of your eyes and it adds to the sting. There is no place to escape the heat and the restlessness in your gut burns you up. When Lula gripped the cat with her thick green rubber gloves and plunged him into the cage, the cat's primal screams were nearly drowned out by the air around them, air too saturated with survival to pay any notice to what occurred on the porch of Lula's mobile home that morning. The great paradox of this place is you've got to have a little feral in you to be able to call this place home.
Home was something of a loosely defined, abstract concept to Lula. Lula's Pa once made tweaks and repairs on tracks and freight cars of rapidly expanding rail lines which carried oil from here to there. As a child, Lula's family slept in box cars. Lula found playmates roaming the ground. She and her brothers learned to catch bullfrogs and box turtles, snakes and armadillos. When her Ma called the children in for a lesson or a meal, the creatures were released to scurry off into the surrounding bayous, hills, sands, or whatever the environment was like where the locomotives of capital took the family.
Ma, can I keep it just this once? Lula once pleaded of her mother with regards to a rabbit which she and her siblings had somehow gotten into a wooden crate. I'll take good care of it. I'll feed it and clean its crate and everything. Promise!
Lula's mother once placed a calloused hand on her hip and pointed a ladle at her daughter. The only way that thi-ing is coming in this car is if it's shot, skinned and boiled in stew for supper. Now, shoo!
Lula's brothers once smiled big. Ma, can we shoot it? Can we? Can we? They once raced to grab the shotgun which was propped up by the door of the boxcar.
Ma once felt it a healthy part of a boy's bringing up to quench their thirst for blood, so she waved them off with a grunt and a nod. Lula refused supper that night and cried herself to sleep.
The lesson that Lula's Ma once tried to teach her and which Lula seemed to have failed to learn or accept is that feral critters are better left to their feral ways. The kindest thing to do for a feral cat, should you come across one and think it cute, is to leave it be.
I don't get why she thinks she needs another animal around, let alone a wild one. Bless her heart. But what really gets to me is that poor cat. He's been in her bathroom for two weeks now and he's just as hostile as the day she brought him inside. That cat doesn't want to be there. I wish she'd just give up on this silly idea and set him loose.
Dionysus voiced is own views on the subject, venomously hissing at Lula's outstretched gloved hand which held a morsel of tuna.
You can't keep that thing in your bathroom. It's not where it belongs. Let the creature go free. Well, we'll see. He'll come around with time.
It would not come around with time. Some cats, if taken in as kittens up to two months in age, can be domesticated into lovely housepets. But much like people, as cats age, they become more and more set in their ways. It is easier for a camel to pass through the eye of a needle than a feral cat to become domesticated.
What if it has diseases? Not to mention, you could get hurt. At your age you don't need to be setting yourself up for injury and infection. Who do you think has to care for you?
Well, we'll see.
After Dionysus was left to his own devices in Lula's sparse, stark white bathroom, he would help himself to the offering of cat food left behind. He would then rub his face and body against every surface in the bathroom: the walls, toilet, door, tub, sink. If he must be held in this place, he figured, he might as well claim it as his own with his feline scent. After this ritual came a prayer consisting of cacophonous cries that pierced the air with his prisoner's sorrows.
Here are some facts about feral cats: The more generations that have passed since a cat's last domestic ancestor, the wilder a cat will be. No matter how many generations of wildness, however, most tend to be largely dependent on human kindness and waste products. Without welfare and hand-me-downs, roughly fifty percent of feral cats die within their first year of life.
Things continued much in the same way as they had been going. In spite of feedings which occurred twice daily and numerous extensions of a heavily-gloved hand, very little progress had been made toward building amicable sentiments in Dionysus. He always reacted to any gesture with an arched-back hiss as if he had been plucked from his Eden that very morning. When Lula left, he would resume his routine of eating, pacing, praying, and plotting his revenge.
Like most any cat, if Lula were to die, Dionysus would not hesitate to lick every morsel of meat off her bones. Dionysus, however, actively fantasized about the idea of dining on the flesh of his captor. He absolutely detested his sterile cell. He sharpened his claws on the door and waited anxiously for it to open long enough for him to burst free. His prayers were offered piously. He would humble himself for falling short of wild glory and then he would seek forgiveness for his sins. He thought of all the rats there would be to hunt in cat heaven.
Lula would pray to her own cat gods, the gods who had driven the first domestic cats from streets to hearth in Egypt. The Egyptian cat goddess Maftet ruled over justice, war, and execution. She later became Bastet, the goddess of motherhood. The relationship between war and maternity is a complex one, birth as violent of an ordeal as death. How quickly bodies and homes become battlegrounds. How devastation is passed down the generations. These gods, surely, would have the power to undo iterations of increasing ferality and isolation.
The gods blessed Lula with a solution over breakfast one morning. As she took care to spread butter evenly over a slice of toast, she realized that the toaster was the key. Whether the lock the key opened was a door of control or liberation was not a matter to which she gave much thought.
When Dionysus was confronted with the cage a second time, he resisted defiantly. In his cat's mind, the cage had brought him to somewhere terrible and to somewhere terrible it was sure to take him again. Yet the cage was not to leave the bathroom, let alone the bathtub, during his term of occupancy. Dionysus writhed under the stronghold of his murderer's green gloves as they sentenced him once again to the cage. He employed every survival tool with which he was equipped. Every hiss, a supplication. Every scratch, a sacrifice. Even as the glove turned the faucet of the bathtub and cool water of imminent death drenched his body, he did not surrender his faith in the Almighty. He cried out and cried out, declaring his allegiance to the gods. One final prayer, that his soul may be wild in the life to come.
The toaster's cord could barely extend from the bathwater to the nearest outlet, but Lula managed. The electricity which pulsed through Dionysus's earthly body was more feral than he could have ever hoped to have been. When it was all over, his limp corpse permitted Lula to hold him close to her breast as she carried him outside. His head fell pathetically over her arm and his body hung like a garment. Though his fur was cold and damp, warmth had not yet left his body.
Slain Dionysus was lain on a table in the garden where no plant is a weed and no creature is good or evil. Next to him lay a steel blade with which a long line was cut into his flesh from his throat down to his anus. The head, tail, and paws were chopped off and tossed aside. His skin peeled back just like an orange. All internal organs were excavated and deposited on the pile of dismembered body parts.
When Lula had toast and sausage for breakfast the next day, it was very quiet.