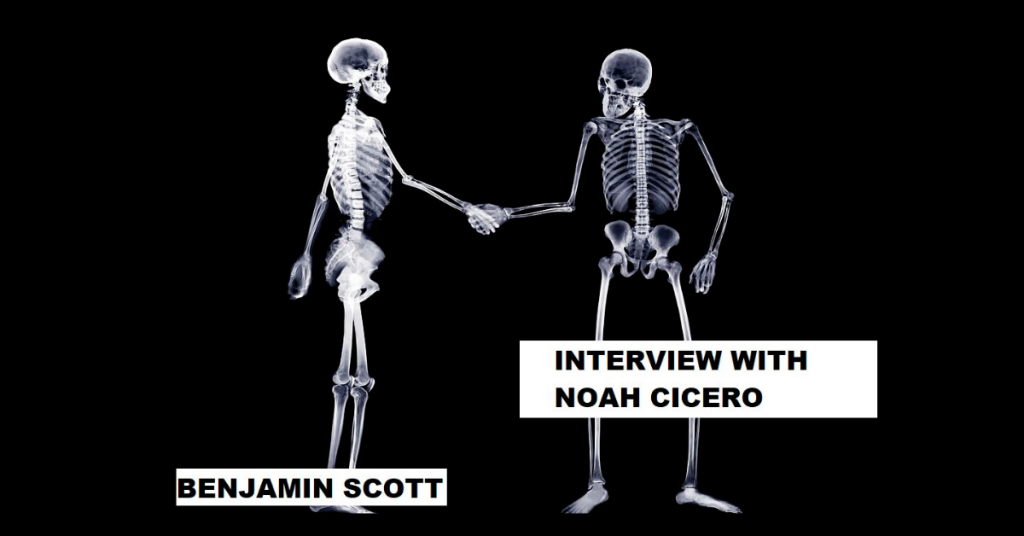 Noah Cicero has a new book out called Give It to the Grand Canyon, published by Philosophical Idiot in July (available here).  It is his first fictional book in several years. I interviewed him about the book, his writing process, and his views on the current state of America. 
BS: How would you categorize Give It to the Grand Canyon?  Is it fiction, a short story collection, a memoir?  At first I thought it was a memoir because the narrator doesn't state his name until a couple chapters in. Are the characters based on people you met?
NC: It definitely is not a memoir. There are scenes that happened, but there are scenes that were made up. In general, the real moments of my life were specifically selected to suit the story's purpose. Billy Cox isn't me. Billy is better educated, and more "every person" than me. If it was a memoir, I would have written about how my psoriasis was killing me and I basically only ate apples and salad the entire summer. At one point, my tooth chipped and that was really bad. I sat in bed listening to "Sara" by Fleetwood Mac a lot. Also, someone very close to me died right before I went out there, and that's not mentioned. I was stalked by a Romanian woman for a lot of the summer. At least I don't think I mentioned that. 
BS: Much of the book seems to revolve around themes of the passage of time, humanity, the state of American society, letting go of the past, questioning the future, and the power of nature.  Will you please explain what inspired you to write this book?
NC: I've been to a lot of National Parks. They are my favorite places. At every National Park there is a visitor center with a bookshelf, containing books specifically about the park. They are all written by the park rangers, scientists and historians. Nobody that has worked concessions ever wrote one. What I mean by concessions is for the private company that the government contracts to run the hotels, gift shops and restaurants. No book like that exists. So I made one.
If those themes you mentioned made it into the book, they came naturally. I didn't purposely add those themes. I had no intention to do that. 
BS: Many of your books are clearly political/philosophical.  This book is very subtle in any political/philosophical message.  Do you think that readers are tired of politics/philosophy? Are YOU tired of politics and philosophy? 
NC: The book is about a summer at the Grand Canyon. It was about the shadow of a woman. The Grand Canyon was here before politics, and it will outlast all of us and probably even politics. I want to respect your question, though, and answer. Am I tired of politics? I think when I wrote about politics when I was younger, it was the voice of an Ohio white guy. Ohio people in general love to make political opinions. It is a sport for them, but it means nothing. I realized what I was saying meant nothing. It was unserious and facile. I really struggled with this,  like something died in me, and the rotting corpse of my stupidity stunk horribly inside me. I decided to not give random opinions anymore. If I feel strongly about something, then I need to do something, even if it is very small. Last week, I ended up in a meeting with Corey Booker. None of my facile opinions led me to that. It was doing something. 
BS: This is your first published fiction book in several years. How long did it take you to write Give It to the Grand Canyon? 
NC: It took nine months. I wrote the book in 2016. I never submitted it to anyone, and then I saw Philosophical Idiot was going to publish books. I love them and their aesthetic, so I submitted to them. 
BS: Do you write every day? Do you use a laptop/pen, paper/type writer?  What is your writing environment like?
NC: I wrote randomly, a few times a week. I would go to Starbucks on Lake Mead and Buffalo and write a chapter. I would listen to Willie Nelson and other Outlaw Country Bands. I tried to find the voice of an old country singer. When I write a book, I try to imagine how the story is told. For this book, I imagined an old man holding a Martin guitar, strumming away in his living room. Then his grandson comes in, holding a picture of him at the Grand Canyon alone and in South Korea standing next to a mysterious woman that isn't grandma. He asks grandpa, "What's this?" 
BS: Are you working on any other writing projects?  
NC: No, I think something is taking its course. When it is over, there will probably be words then. 
BS: Although the book is not specifically about climate change, it does show the power and danger of living in an extreme climate. You posted that everything was shaking in Las Vegas during the California earthquakes. What is your view on climate change and the state of the environment? Do you think the environment can survive with capitalism/consumerism?       
NC: I don't think I can answer some of these questions. I'm not a climate scientist. Do I think the environment can survive capitalism/consumerism? This is an opinion question, like I am supposed to give an opinion. This opinion would define me, and if you enjoy my definition, you might want to buy my book. I do not think I can give that opinion. I will say, I don't think it is capitalism. I think it is our culture. The act of fair exchanges, binding contracts, growing food and then turning it into chips is not evil. What is evil is that they have convinced us to be slaves to the Ideal of Wealth. We are slaves to the idea that wealthy is best, that we should be able to make wealth by destruction and thievery, that if someone is wealthy they are automatically better than everyone who isn't.
People often talk about how Catholicism makes you feel guilty for being a sinner, but American capitalism makes you feel embarrassed just for existing. The attacks on your sense of self are relentless. Most of our society is crippled by the anxiety of not being good enough. Oh man, I've already lost. See the language I just used? "...crippled by the anxiety of not being good enough"? Immediately people will be thinking, "Good enough for a great job." No! Not that. Good enough to love your friends, be friendly, enjoy the life you have, have the body and intelligence genetics/God gave you, and help each other with confidence. In this society, if you are bad at math, they start shaming you in kindergarten. Your body is shaped a few deviations off of a TV Actor, shame. You don't live in a good neighborhood, shame. Your parents aren't married, shame. You don't have kids, shame. You are a man, but you cry sometimes, shame. We have so many cultural shaming methods, and they are about the dumbest things. 
BS: How do you feel about the upcoming campaign season for the 2020 election?  Are there any candidates you support?
NC: I feel a little scared, because I am unsure if Ohio and Florida can be won by the Democrats. Those states seem to have been lost by the Democrats, and they will have to make up those points in other states. How and what states? In a very innocent way, something seems really wrong, like why can't we lower the military budget? Like why? Why can't we help the immigrants on the border? Why can't we give at least residency status to immigrants that have been waiting for years? Why don't we have single-payer healthcare or some variant?  It says in the constitution we are all equal. If we are not equal when it comes to healthcare, then the document is a lie. The big Republican states of Mississippi, Louisiana and Alabama are becoming theocracies, but at least poor people can live there. In California, the liberal apex, if you can get a job making $80,000, you live in a cute utopia. But if you don't, your quality of life is horrible. These are not good advertisements. 
I don't want to comment on the candidates. 
BS: What are you currently reading?
NC: I just read the autobiography of Saint Theresa Lisieux and The Jesuit Guide to (Almost) Everything: A Spirituality for Real Life by James Martin. They both helped me. I need to learn how to love. I have to learn how to pray for those who mistreat me. 
BS: Are there any writers you would like to recommend readers check out?  
NC: Juliet the Maniac by Juliet Escoria. 
(If you want to check out some of
Juliet the Maniac
,
here's a taste
. If you want to get yourself a copy of one of Noah's books—and we suggest you do—go
here
. --Chris & Jennifer)