Sam Pink is the author of a dozen books, including Person, The No Hellos Diet, Hurt Others,  and Witch Piss.  I interviewed him about his latest book The Garbage Times/White Ibis, his paintings, and his time living in Florida.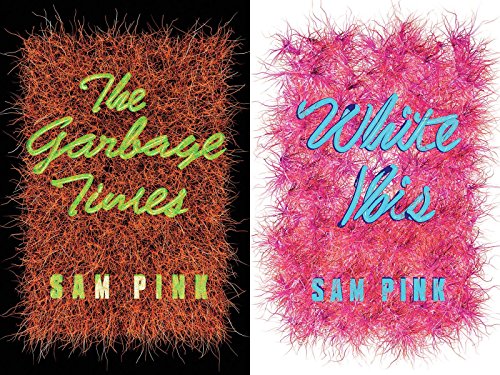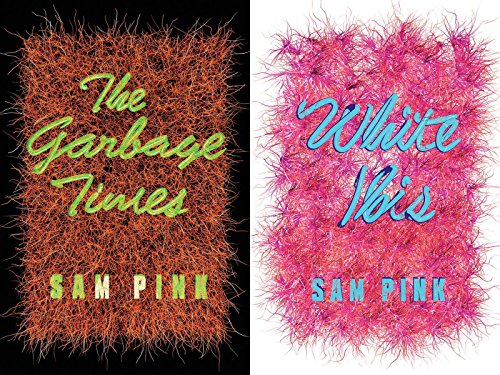 BS: You lived in Chicago for a while but several years ago you moved to Florida. What sparked the move and why have you moved back to Chicago?
SP: I moved to Florida for the person I was dating. I moved back when we broke up.
BS: Sorry to hear about that. Does Chicago seem different? Where is the best place to eat in Chicago?
SP: Yes, it seems different, in that I view it differently but also that it is has slightly changed. The best place to eat is Arturo's on Western.
BS: You have a book coming out next month that contains two novellas: The Garbage Times/White Ibis. What are they about?
SP: The Garbage Times is about working at a bar in Chicago. White Ibis is about moving to Florida. They are also about a whole range of other things, both intended and unintended.
BS: Are you planning on doing any public readings? Or attending writer events/conferences?
SP: Yeah I have some readings set up, and hopefully more this year. I enjoy doing readings. I went to AWP this year as well.
BS: Your last book came out in 2014 you spent most of the past couple years painting while in Florida. How were the hurricanes?
SP: The hurricanes, where I was at, were very mild. I had an experience during one of them though. I went to my girlfriend's parents' house to hunker down because the news made it seem like the entire state was going to die. And as the time for the storm drew nearer, I had a panic attack (like heart racing and unable to stop thinking/calm down) consisting of envisioning the storm hitting, like visualizing the destruction of the wind, the walls of the house coming down and being pulled away by water, trying to save people, dying, etc., which continued to escalate in a way that was hard to endure, but then when I identified that there was a bad storm coming, and nowhere I could go, and that I'd have to try and survive and help the people around me survive as best I could, and that was just how it would be, I immediately became calm, and almost at the same time, the storm changed course and weakened and became nothing.
BS: How many paintings do you think you made?
SP: Including drawings, probably 200/250 or so.
BS: Do you plan on doing more?
SP: Yes, I just don't have a place to paint right now.
BS: Did you ever take any art classes in school?
SP: I took an art class in high school, which was basically like a crafts class/babysitting class.
BS: Why are art teachers quirky?
SP: Some spirits do different dances to get out.
BS: Where did you work while living in Florida?
SP: I was a dishwasher, a home remodeller, a medical warehouse employee, a machine operator, and an ice cream man. I interviewed to be a mortuary driver, but felt like the protocol of only sending me and not two people to pick up dead bodies was unreasonable.
BS: What is the worst/weirdest job you've ever had?
SP: (lights cigarette and looks off to side) Being me, dude.
BS: Are you working since you've moved back to Chicago?
SP: Not really, I'm looking for a job.
BS: How would you describe your books?  
SP: I wouldn't describe them. That's what the words inside are for. Plus I honestly think other people understand what the books are about better than me, based off what they've told me throughout the years.  
BS: Would you consider your books socially political as many of the characters/narrators are not out in front of society?
SP: Yes, in that you can interpret almost anything politically/socially. But no, in terms of any explicit ideas.
BS: Do you have a writing process? Do you make notes or have any habits? Does it take you a long time to write a book?
SP: Kind of. Usually I have a bunch of notes I've written down, or scenes I want to write, and then begin developing them. Usually takes a year to write a book.
BS: What inspired you to first start writing and painting?
SP: My spirit.
BS: While following your painting output I've  noticed they tended to get bigger and the patterns/colors would change. When painting do you just use whatever materials are around or do you seek out certain colors brush's medium etc? Do you still have paintings for sale?
SP: I used to, and sometimes still do, use whatever is around.  It helps to break patterns, and different tools do different things. But I have also gotten into purchasing art supplies, like specific colors, canvases, etc. I have two paintings for sale still.
BS: Do you work on one project (book/painting) at a time or do you jump between them?  Are many of your paintings related to the content of any of your books?
SP: Usually one at a time. My mind usually tells me when to switch. Like if I feel less enthused about writing, then I switch, and vice versa.  None of the paintings are directly related, but I have used them for book covers, etc., and also, I reference painting in White Ibis.
BS: Are there any authors that influenced your writing style?
SP: Yeah, but more in the way that they encourage me to 'tag in' and contribute, rather than giving me style points. I feel more influenced to 'do something' when encountering stuff that inspires me, rather than, 'I should do stuff like that.' Style is personality. Your personality is  your style. Even if you're writing about aliens, those are aliens from your personality.
BS: How do you feel about the current political climate in the USA and globally?
SP: Haha, man…
BS: Do you listen to podcasts? Which ones?
SP: No.
BS: How many cats do you have? What are there names?
SP: I have two, Benny and Dotty.
BS: Which authors/books do people need to read now?
SP: Oh man, too many to list and remember right now. I try to support as many of them as I can, with what ability I have. But there's a crop coming up that is kablooey. There are writers and painters and other people coming up right now that are doing a lot to make me excited. Don't worry about them just yet, they will announce when they're ready. One book people need to for sure read is Welfare by Steve Anwyll, coming out this fall from Tyrant Press. They have paid me nothing to say this.
BS: Why should people buy your book and where can they buy it?
PS: Because it will entertain them and maybe do other weird things with their mind and because I'm a sweetheart. They can order now through Soft Skull Press, or through various online and physical locations on may 1st when it comes out.
BS: Are you working on any future projects now?
SP: Yes, I'm working on a book of short stories that is pretty much done.  It's called The Ice Cream Man and Other Stories.