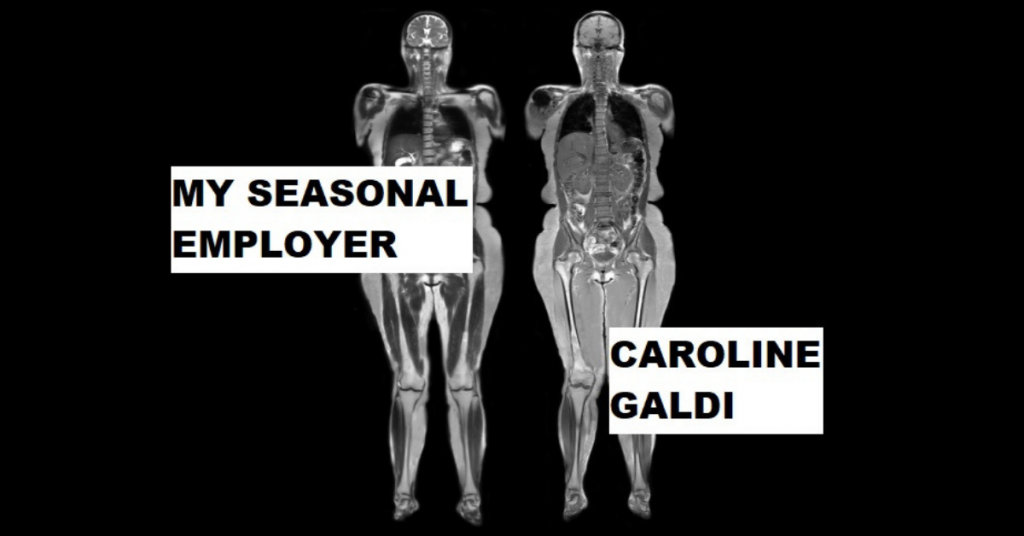 I was told to meet the driver at 300 King Lear Street, which was in this subdivision full of these corny 'medieval' names. Court Jester and Shakespeare and shit like that. It was like the developer was stealing street names from a book of word-search puzzles. There was a sign that said "REAL HOMES". At the end of the street a bunch of the houses were still wrapped in plastic. Later the driver told me they brought the townhomes in in pieces and then assembled them on the spot Ikea-style. I said that was weird but couldn't explain why.
I parked my car in the parking lot of the pool, which was closed for the winter, and walked around, wishing there was a bathroom somewhere where I could pee, waiting for the driver.  One of the first things I learned about working in a delivery truck was that you didn't get to pee much.
Finally, a big brown and gold truck showed up, and I waved at the driver so he'd know I was his helper. I was on winter break, and wanted to make money, so I'd signed up to be a "driver helper," which was pretty much exactly what the job title implied. I put on a reflective vest with a brown and gold logo and got in the jump seat, which folded up onto the wall like the seats in a movie theater. The driver's name was Irvin. He looked like he could be a member of Weezer, or maybe a band that was trying too hard to be Weezer.
Morrisville, it turned out, was full of this type of subdivision. All of them were brand new, with these stone facades that were supposed to look rustic and homey, but looked cold and plastic and fake. Of course, I, too, lived in a suburb, but at least my suburb had trees. There were no trees here. "They're gonna run out of air if they keep developing like this," Irvin said at one point. "And the road structure isn't thought out well at all." I supposed you became an expert at Morrisville road structures if your job was to drive through Morrisville all day.
"They call this job the golden handcuffs," he told me. "Everyone hates it, but the benefits are too good to leave." We made small talk about the job market, and about how expensive and stupid it was to go to college. So I felt silly saying I was studying English literature on my family's dime, but at least I was up front about my job prospects, which were zilch.
"I was listening to a segment on NPR about student debt," Irvin said. "And they were talking to this guy who went thousands of dollars into debt to go to Oberlin, and you know what he studied? Trombone." As if out of everything you could study at Oberlin, trombone was the most ridiculous.
 As it happened, I knew someone who was studying trombone at Oberlin—a friend from high school. But his parents were plastic surgeons, so he could study whatever he wanted, wherever he wanted. I didn't tell Irvin this.
A lot of the job involved speed walking up to people's doors and up apartment building stairs, but a lot of it was just driving, too. I'd been driving a lot the past couple of days because I'd come back from college and then gone back the next day to get stuff I'd forgotten and then I'd come home again, and in between that I'd driven to pick my sister up from school but she goes to high school somewhere farther away than where I used to go, so I took two wrong turns and ended up in a different county driving over one of those nuclear power plant lakes that stay warm year round. Even driving from Apex to the distribution center in Durham was a hike. I wondered how I'd cope with a job on the road, if I were to do this full time.
The subdivisions were treeless, but once you got on the main road, the woods swallowed you up. As December afternoons are prone to do, it got dark pretty quickly. And with the trees being all empty, you could see really far through the forest. It would all be gone soon, probably, what with the developers stripping chunks of land and putting more houses down, but when you were driving through it, it looked endless. The whole time I was thinking about the Blair Witch Project, which I'd recently seen for the first time. It scared me shitless. But the scariest part of that movie was how they were trapped in the woods, and how they couldn't get out, walking in endless circles, screaming with nobody around to hear them.
The woods looked like they could have been in the Blair Witch Project. And if it weren't for all of these highways, you could get lost in them. I was thinking about how roads and cars made everything smaller. Like if you were a dumbass, like I was, and forgot your hiring paperwork at school, like I had, you could drive back to Greensboro to go get it, and still be home in Apex in time for dinner. And that was a couple hours' drive, but walking that distance would take days. You could probably have five separate Blair Witch Projects in the space between Greensboro and Apex. There were enough woods for countless dumb college kids to get lost in over and over and over, going in circles for days. But we didn't. We just cut straight through and used GPS.
We ended up near the airport, where Irvin did a lot of airport deliveries. We went past the main terminals, which I'd been to before, and then we drove around all these back parts I'd never been in, other hangars and smaller airfields for private jets. "That's where the Carolina Hurricanes' plane is," Irvin told me. "I saw them boarding once. One of the rookies on the team had this massive bottle of vodka sticking out of his bag." There wasn't a lot for me to do near the airport, because all the deliveries there were business deliveries, which needed signatures.
We made a lot of warehouse stops. Irvin knew all the warehouse workers by name, and they greeted him when he pulled up. He'd back the truck up to the big sliding door of the warehouse and we'd load package after package from the warehouse to the truck.
At the end of the night we took all the packages we'd picked up back to the distribution facility, and put those onto a massive conveyor belt. Irvin told me about the place in West Virginia where he grew up. "It used to have more millionaires per capita than anywhere else in America," he told me. "Because so many people owned small businesses. Auto shops and groceries. And everyone in town would spend money there, because you could make a decent living working in a factory. Then all the factory jobs went overseas. Now the place is a total dump."
Afterwards he drove me back to 300 King Lear Street, and I said goodbye and gave the vest back and unlocked my car and sat in the driver's seat, exhausted. I was so tired that I considered just lying there and taking a nap. After running packages for hours and hours, my little car felt like home. I would total it the following summer, while driving home from a high-ranking, full-time, paid government internship. I didn't know that yet. All I knew was that my phone was about to die and I had to remember how to get out of the neighborhood before it ran out of battery and left me horrifically stranded in Morrisville.
The route home took me through the Research Triangle Park, a place that a lot of people liked to compare to Silicon Valley. All the roads and signs looked so smooth and new. It always calmed me, driving at night. When I finally made it home, my mom was still up, doing crosswords on her phone, waiting for me.
I never saw Irvin again. The second day I had a new driver, named Jenny. She was also my driver the day after that, and the day after that, all the way up to Christmas Eve.  I was told to meet her in the parking lot of this tiny grocery store on the corner of a busy intersection two minutes from my house. It was in what my friends in high school had liked to refer to as "the ghetto part of Apex," and I had shushed them for being insensitive. But as I sat there in the parking lot, surrounded by construction workers on their lunch breaks, I realized that when it came down to it I was no better than my friends. I was just as uncomfortable as they would have been: a skinny nineteen-year-old blonde lady with my slicked-back soccer-mom ponytail in an expensive fuchsia athletic jacket with a high school honor roll magnet stuck on the bumper of her car. And I didn't know how to stop being uncomfortable. It felt bad. People were loitering around in the parking lot, ordering from a taco truck, and giving me weird looks for taking up one of the five parking spaces and just sitting there in my car. When Jenny drove up in her big brown and gold truck, I rushed out to greet her, and she said they'd tow me if I parked there, and let me drive to a nearby bar that wouldn't tow me.
Jenny had only been driving for three weeks. I asked her how it was so far. "It's hard," she said. She had four daughters. They were in her phone background, all dressed up in their Sunday best and smiling for the camera. As it turned out, her route went through three neighborhoods: mine, and two that I drove through to avoid traffic at rush hour. So I knew the street names better than she did: she was still relying on her phone's GPS to guide her.
The whole time that we were making deliveries, I kept wondering why there were so many houses. What were they all for? Who lived here? It was my own neighborhood, but I realized that for all the nearly two decades I'd lived there, I still didn't know the majority of the people in the neighborhood. For every house whose residents I knew, there were ten full of strangers. Neighbors and strangers alike, I delivered their boxes and boxes of things, big rugs and doormats and bags of clothing and Omaha Steaks and computers and Christmas wreaths and Bluetooth speakers.
When I was a kid one night—and maybe this was a dream and maybe it was real—I'd been hit with a bout of restless insomnia, and my dad had taken me on a drive around the neighborhood in his car to lull me to sleep. I remembered it so strangely, the way the houses and the trees were so still at night. It was calming, too, sitting in the back of my dad's car, the same car I'd later drive around in and ultimately total. The neighborhood became a recurring location in my dreams, until the dreams became so vivid that they'd bleed over into the waking world, and I'd wander the sidewalks gazing up at the trees, struck by uncanniness. Now, in the dark, I traveled up and down the streets again and again, jumping out to run packages, running back in, wondering if I could do this for the rest of my life. Every bike ride, every school bus stop, every sugar-fueled Halloween romp was painted over the neighborhood; the sidewalks lined my strongest and most persistent memories. And I painted on more layers with repetition, package numbers, the bitterness of the wind and the aching of my knees as I stormed up and down the stairs of every house, deposited the package (sometimes gently, sometimes not), turned heel, leapt down deftly, and clambered back into the truck. Hundreds of times I repeated this, until the houses blended into each other, a long string of memories as dark as the winter sky at 6PM.
One Thursday, Jenny was sick. She looked like she had the flu. "I'm so weak," she kept telling me. But her supervisor didn't care, so long as there were packages to be delivered. I didn't think we were going to make it through the route. We had so many packages—the truck was full, past capacity, at twice the capacity, stuffed to the brim with cardboard. The hardest part of the job was to get the right package at the right house at the right time: all of the logistics. And she usually took care of that, mostly. You had to look for the numbers on the box, and then for the house number, and her board—the handheld device that stored all the information—kept freezing and acting up, and we were fighting her brain fog. I had the mornings off, and only helped her with the residential part of the route. She was working twelve-hour days. She was fatigued and over-worked and surviving off of packaged junk foods. While we were re-arranging packages on the shelves, her oldest daughter texted her to say she'd gotten accepted into one of her top choice colleges.
I realized it then: why she'd taken the job. She had to put her daughters through school. I felt like my heart was breaking. There in the back of the truck, Jenny started to cry. I felt like I was watching a tragedy occur. This wasn't where I liked to watch tragedies occur. I preferred them from a distance, with a screen between us, so I could turn it off or click to a different tab if I didn't like what was happening.
I wanted so badly to quit. The delivery route was in the neighborhood where I lived: I could've jumped off and ran home. Selfishly, I considered it. I'd done that before—not as an employee of the delivery company, but in equally uncomfortable situations. I liked running away from things. But I made myself stay through the entire wretched evening. I knew she'd be worse off if I left, and that I wouldn't be able to face her ever again if I ran off, so I kept running packages and trying to make up for our lack of brainpower, correcting her when she made mistakes and matched the wrong package number to the wrong house. I let myself feel like I was making some kind of grand sacrifice, like there was something noble about me sticking through with it, even though she was the one in pain.
At one point I started to cry, but in the darkness of the truck, nobody had to know. I just did the only thing I could do: when we got the right package, I took it and ran. My calves had been sore that morning, and my knees were getting torn to shreds, but it was like I didn't feel them. Jog up the lawn, place the package on the porch, jog back. Run up the lawn, put the package on the porch, run back. Sprint up, toss package, sprint back. The faster I ran, the faster it would be over. I don't know why, but I didn't get winded. I used to not be able to run in winter air at all—my chest would get all tight and I'd start wheezing like an asthmatic.  But that night, I ran faster and harder than I'd ever run before, and I barely felt it.
Finally we delivered the last wretched package and Jenny drove off, and I came home just as my family was getting ready for dinner. My mom had cooked the Omaha Steaks my grandparents had sent us, and the Bluetooth speaker was playing Christmas music from some a capella pop group I couldn't stand. The Christmas tree was lit with electric lights, and the cat snuggled up to my ankles. My mom was in an unusually good mood. "I thought we could use some red meat," she told us. "Some iron." I showered the grime of the truck off of me, and came downstairs in pajamas, clean and dry. We all sat around the table to eat—something that didn't happen much anymore—and as I looked around the dining room, chewing my Omaha Steak, I stopped seeing home. All I saw was the inside of a house that was one of hundreds in a sprawling suburb with streets named after nothing.