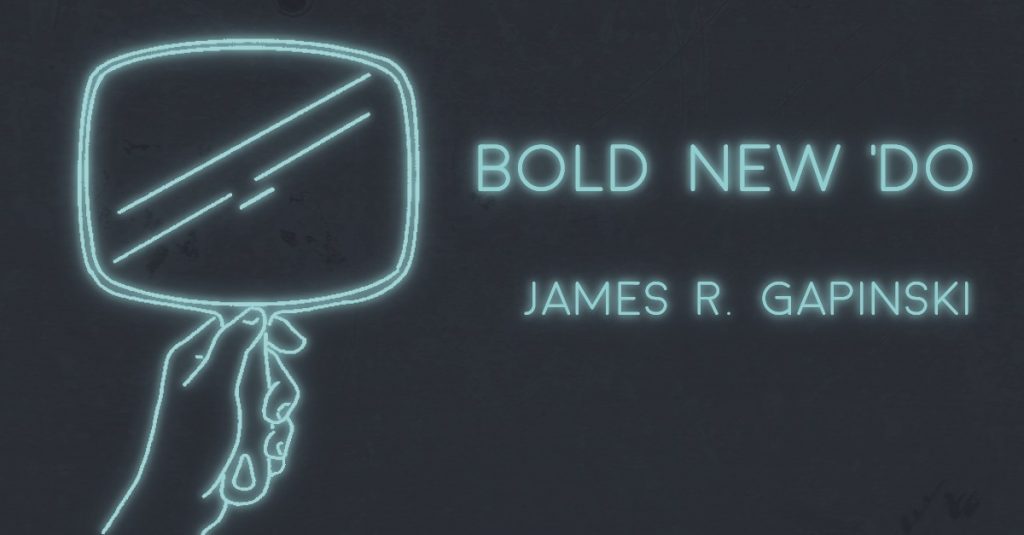 The hairdresser takes too much off the top. Whoops, sorry! she says, holding out a piece of scalp for me to see. I take the little hand-mirror and inspect the damage. A swath of skin pulls away from my brow and wraps around, like a halo. I take the scissors and plunge it into the hairdresser's leg. Whoops, sorry! I say. She laughs and smears the blood around her leg. It's red and vibrant. She is liquid inside. There is a glossy sheen brighter than the brightest no-smudge, stay-on, fire-engine-red lipstick. The hairdresser smiles and says I think we should go for it. Just take the rest off. Make a statement. Be bold. Bold. Bold! She keeps repeating her mantra, ripped off the cover of those magazines in the lounge area—everything is billed as bold and new, but I think this is the first time a stylist has meant it. Bold!
She slices away more scalp, and she pulls on my earlobes like she's popping open an aluminum can. She peels and yanks downward. Between cuts, she works on herself. She plunges the scissors deeper into her leg and draws the blade away from its origin point. She goes back to work on my neck. Then she uses the electric trimmer, whittling down my shoulders. She turns the trimmers on herself, chipping into her clavicles. She takes away a piece of my lip. What do you think? she asks. In the little hand-mirror, I see my teeth through translucent bits of leftover skin. I smile, and I'm amazed how white they look in this lighting, like I've just returned from the dentist. More! I say. Be bold!
The hairdresser retrieves a paper slicer from the back office for more expeditious work. She chops off anything that has the slightest elasticity to it. She chops and chops until there is nothing but the hardest muscles and cartilage. I think I see bone. A woman sitting across the room says I'll have what she's having and thinks its clever. 
The hairdresser sits me in front of the salon's largest mirror for last-looks. The hairdresser takes pictures for her style-portfolio-thingy. She says this will become a hot new craze, and she wants photographic evidence that she thought of it first. She Tweets and posts on Facebook. My phone lights up. I think we're already trending.
I inspect the polish on my reddened insides, the fullness of the color. I look at the hairdresser as she continues to snap photos. She is the same. She is slick with blood too. Her bones ache between the barely visible layers of flesh that remain. I feel like I've seen her before. I think she is my sister, though I cannot be sure.