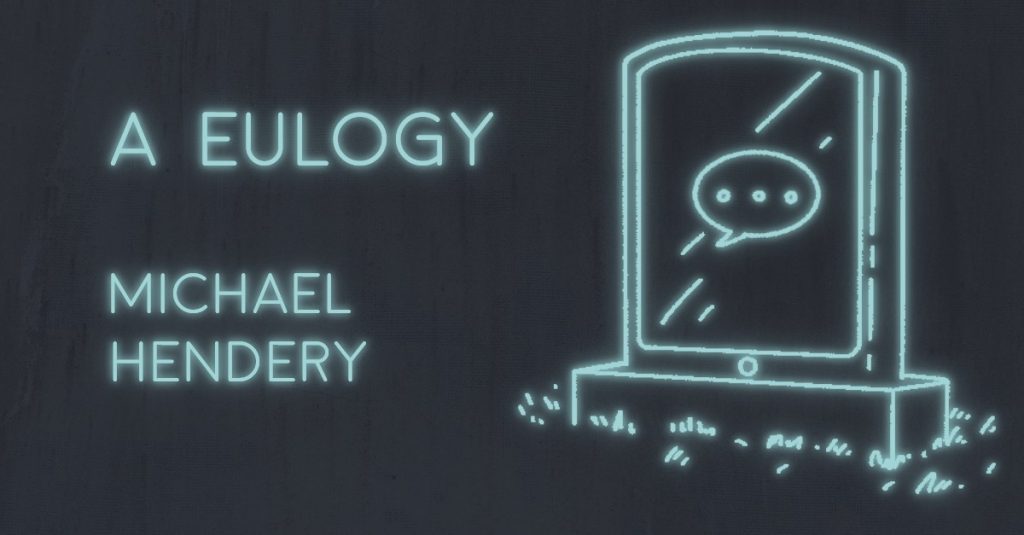 Cynthia B. Hurley, known online as @iBrake4Corgis17, was a well-connected woman visible across the social media landscape. Her beloved Instagram feed totaled 12,574 posts, and she amassed 836 followers after more than twenty-five years of daily engagement with the app. Cindy's all-time, most-liked post was a photo from October 2031 of her wearing a Davy Crockett raccoon-skin cap, pretending to strangle the eight-foot-tall stuffed grizzly bear in the lobby of the Fern Creek Lodge which garnered 529 likes and spawned dozens of comments, including the expected accolades from her dear friends @tango4one and @winediva77. This post's popularity surpassed her previous record for the selfie she took in front of copulating zebras during her well-documented safari trip to the Serengeti back in the winter of 2029.  
Cindy's YouTube channel was a hallowed storehouse for her personal concert recordings, including a third-row video capture of nearly all of Neil Diamond's "Cracklin' Rosie" live from the Hollywood Bowl that, to date, has been viewed more than 8,200 times. She also leaves behind a nine-part series of how-to videos for removing stubborn stains from a variety of fabrics. Cindy's upload demonstrating how baking soda and vinegar can be used to get a dark roast coffee stain out of a hand-tufted wool rug has gotten nearly 5,000 views, and it ultimately earned her an invitation for a featured segment on household cleaning tips and tricks on Wake Up Bakersfield!
While a perilous allergy to pet dander rendered Cindy incapable of keeping a dog in her apartment, she nonetheless maintained an active Tumblr account where she collected innumerable photographs of dressed-up Corgis. Her favorite was of a Pembroke Welsh outfitted with a deerstalker hat and wool tweed jacket to which she added the caption, "the Corgi of Baskerville."
On Twitter, Cindy only followed celebrity chefs. She liked their weeknight recipe links, and appreciated their reluctance to discuss politics in public forums. Cindy had registered accounts on Linkedin, Pinterest, Snapchat, Pastiche, Splay, among others; however, it was her Facebook presence that most endeared Cindy to hundreds of family and friends throughout the world. Her profile picture—a brown-and-white cartoon face of a pointy-eared Corgi, sporting a top hat and monocle—became iconic among her followers. This tiny portrait was framed next to each of her comments, linked Instagram photos, and witty status updates. "I forgot to workout today; that's nine years in a row!" was posted at 8:52am on the day she passed.
On Facebook, Cindy was known for her tenacious commitment to celebrating birthdays within her vast circle of friends. She developed something of a trademark for the occasion, writing "Feliz Cumpleaños" squeezed between two maracas emojis for each friend on their special day. On her own birthday, Cindy would respond to each of her well-wishers with personalized GIF reactions and emoji sequences tailored to their particular connection. 
Although she could be playful, Cindy did not shy away from important global issues. She received 345 likes and 97 sad-face reactions for the article she shared about the devastating flooding and refugee crisis in Cambodia and South Vietnam. Her powerful post that simply displayed the block-lettered phrase "dog fighting" within a red circle and backslash had a similar kind of impact on her followers. 
While Cindy's passing is sorrowful, she did opt-in for Facebook's Posthumous Content Generator, so it is comforting to know that her spirit will live on with posts authored in her likeness, originating from her account forevermore. The first such post, Cindy's Life Retrospective, is now live and can be viewed at her profile page, or at her memorial tablet onsite at Hillcrest Cemetery.  
#pour1forCin #CorgisRpeople2 #mother_of_4