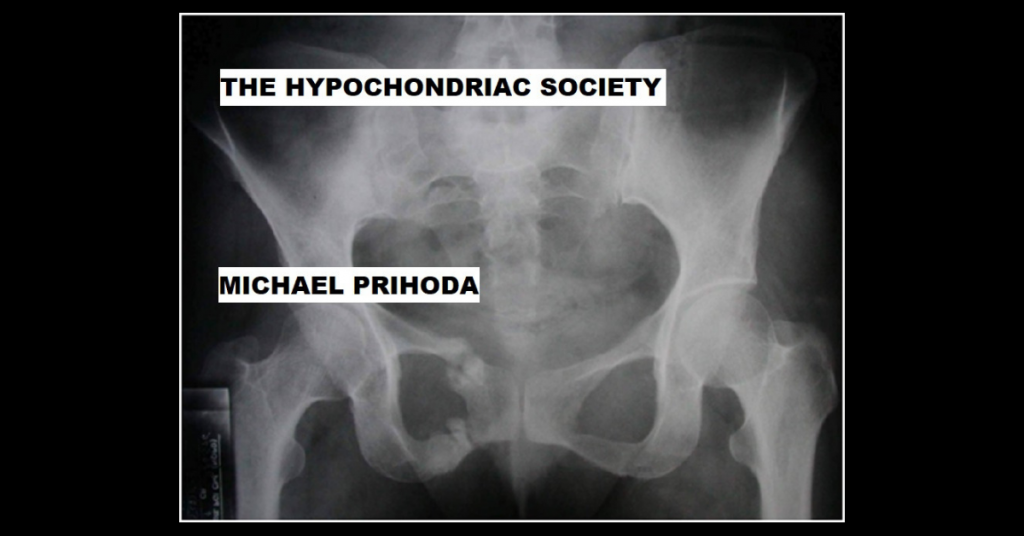 The Hypochondriac Society met every Thursday night in the basement of Knox Presbyterian Church.
The church was like a Russian nesting doll: the Presbyterians on Sunday morning, some Mennonites on Sunday night; a children's Montessori school met in part of the basement during the week or whenever the hell kids attended school nowadays and for a while I think Paul, this one guy I knew from somewhere (maybe he served me food at Shish, that Mediterranean deli on Grand near the university that I generally avoided because, well, undergrads) said Monday nights were AA meetings but I didn't buy that. For some reason. Maybe it was the shape of Paul's face. Who am I kidding, I can't remember his face.
But so the hypochondriacs got it on Thursday nights from 6:30 to 8:00, officially, though some of us lingered after that, as if every Thursday were a wretched party we couldn't help prolong, knowing the hors d'oeuvres, so to speak, wouldn't be as good back home.
There were ten of us for the most part. But if you count the people I talked to, it was four: Trey, Tull, Diogenes. Shit, that's three. Whatever.
We brought our maladies like the shitty nephew brings a ring down an aisle toward a semi-entranced couple, the male counterpart of which probably harbors resentment and not a bit too little of put-offishness at having to tolerate this dweeb carrying potentially the most expensive piece of anything he's ever purchased for anyone, excepting that Camaro he may or may not have purchased back in LA but whose payments he quickly defaulted before prestidigitating a new life with a family containing one of these trite extras: i.e. said punk nephew of bride.
Each week was the same but different. I'd had rumors of testicular cancer brewing for seven months now and every time I whispered this fear Diogenes would puff her cheeks, the same as certain fishes; her eyes would go all blurry and crosshatched and outsiders would think she wasn't paying attention but really she was like an anti-muse, absorbing all our shit through her nostrils to pack away somewhere deep until her time as oracle might be called upon.
She always looked that way except for this time when a new guy came, threading some story about constant jaundice, MS, atherosclerosis, arthritis, tonsillitis, two bum knees, chronic shoulder pain, halitosis (a dead give away for a faker, since no such malady exists, I mean, c'mon, do your homework, as Trey would say), but so the list goes on and finally, after his lungs fully unwound his sails, Diogenes gets this feral look on her face, so bad I thought Vesuvius had reincarnated itself in the form of a 5'5'', Greek-yogurt-eating self-proclaimed virgin who had dreams of being the first celibate porn star in history (don't ask…). By the time she had picked up a chair (roughly shoving some guy, whose name may or may not have been Marvin, from said chair; the one operative detail I knew about him was the shape and expenditure of his glasses, overheard amidst the meandering exchanges of post-meeting time: oracular, the frames alone running him a morbid $340, "and that's not counted in yen…") the new guy skedaddled, dropping three paper clips, two rubber bands, a plastic clip like for a bag of chips, four number two wooden pencils (not the cheapo kind you see on sale at K-Mart in early August), and a grape sucker. I felt bad because that was classic hypo repertoire, the junkies' toolkit.
The next time somebody new showed up, everyone kept shooting wry side glances at Diogenes for the first ten minutes as someone named Chris(?) said the usual.
Then it got to the new girl. We tensed.
So far she'd been calm as a nonexistent ocean breaker so when she up and Mt. St. Helens-ed us by whipping off her cardigan, t-shirt, and bra, exposing her breasts, and then pointing at a point near-ish her right aureole, only to scream, "SEE THIS!?" you could say we more or less had not seen it coming.
Well, sure, we saw. We saw a decently attractive woman whip off her top(s) and jab an index into the flesh of her right/left breast. But we didn't see.
"BREAST CANCER."
Then she sat down.
It made us uncomfortable. This was not at all procedure.
I looked at Trey. Trey looked at Tull. Tull looked at the floor, ceiling, Chris(?), then me. Then we all looked at her.
The older woman who walked with a cane some days to play up her failing hips happened to be sitting next to the new, breast-exposed woman. She patted her gently on the leg, which up ended up awkwardly landing somewhere around her thigh/butt cheek/hamstring since the woman was sitting and the half-naked girl was standing. "What's your name dear?"
"Did you hear me?" her voice had rumbled into a lower register, less scream, more molasses to it. Considerably more mortality.
Something was wrong.
I wanted Diogenes to pick up a chair and make to hurl it. I wanted Tull to squeak so I could start talking about how I swear those mosquitoes from that weekend I spent camping with my cousins three weeks ago were carrying Zika virus. It wasn't even my turn. There was procedure. But this was no good. I felt people shifting in their chairs.
The girl broke the spell by snapping her bra back into place, then putting her t-shirt on, then her cardigan. Very diligent, almost business-like. As if she had tried something on at Gap and found it not entirely agreeable.
She sat down. Her demonstration having birthed enough ghosts to fill Iceland.
Next Thursday four people showed up: me, Tull, Trey, and some other rando. Diogenes had come down with the flu, or so her text to Tull had said, which she'd half-related to us in malformed sentences lacking adhesion to the English language. I saw breast-cancer girl outside Knox on my way in, just standing near the steps to the door, in a pool of approaching darkness. I couldn't/didn't meet her eyes.
The meeting didn't last until 8 that night. She wasn't there when we left.
The week after, Trey and I were the only ones who showed up. Diogenes' flu had progressed into full-blown malaria and Tull's text also indicated house-arrest Ebola might be in her system.
Trey and I tried to have a normal session but the point was sharing, not talking tete-a-tete, mono-a-mono. That was too personal. Hell, if we wanted that, we wouldn't meet in a church. The person we really spoke to at these things was the space between the circle of chairs. The god in the room. Breast-cancer girl showed us what we worshiped and it got embarrassing.
I helped Trey stack the chairs and we barely raised a hand to say goodbye.
At home, I took my shirt off and stared at myself in the mirror, squeezing my pectorals to make the aureole bulge, wondering what lay beneath.
I had nothing.