What film, or films, made the first deep impression on you?
Definitely George Romero's Night of the Living Dead. My sister had taken a bunch of us kids to the drive-in to see a scary movie, and we started out shrieking and giggling; by the end, we were jammed together in the front seat, silent, or crying. 
But the feeling I remember most deeply wasn't fear, it was outrage. The film's hero, Ben (Duane Jones) did what heroes do, he saved everyone he could save, he withstood the zombie onslaught. But when the authorities arrived, to "rescue" the survivors, they shot him. Immediately. Without question. The racism of the act went over my eight year old head—Ben is black, the shooters are white—but the horrifying, casual, unpunished injustice did not. That film taught me everything I ever needed to know about authority. 
What films have roused a visceral reaction in you?
Night of the Living Dead, of course, a lifelong one. Tomas Alfredson's Let the Right One In, with its eerie, matter-of-fact terror, and the kids' confused, hopeful love for one another. Denis Villeneuve's Dune, its enormous visual majesty, and that Hans Zimmer score! David Lynch's wet slow hysteric Blue Velvet. Ridley Scott's iconic Alien, which I watched in a theatre full of screaming people. Neill Blomkamp's tense and tragic District 9. Guillermo del Toro's masterpiece of fantasy and dread, Pan's Labyrinth. And László Nemes' breathlessly painful Son of Saul. 
Are there films you regularly return to, and do you know why?
I generally don't rewatch films (I don't really reread books, either, though in the first year of Covid that was almost all the reading I could do). There are some films I'd be glad to watch again, to savor the visual details I missed following the narrative, like Andrea Arnold's Wuthering Heights (the one book I can always reread!), or Joel Coen's The Tragedy of Macbeth. And I recently rewatched Casablanca, because I needed to see Nazis fucked over. 
Have you ever lived anywhere that has been regularly depicted onscreen? 
I'm a Detroit native, and I keep hoping that my stubborn, beautiful, tumultuous city gets its due, emotionally and visually, when it comes to films. 8 Mile (Curtis Hanson) got it, Only Lovers Left Alive (Jim Jarmusch) patently did not. No Sudden Move (Steven Soderbergh) was brisk and engaging in the level of its details, and I did enjoy the hyperlocal ice cream stand's cameo in It Follows (David Robert Mitchell). Have not seen RoboCop (Paul Verhoeven) or Detroit (Kathryn Bigelow). 
Which of your writings would adapt most successfully to film?
A (fun)hole in a grungy storeroom floor that goes seemingly nowhere, is that filmable? How do you show the unshowable? The Cipher, my first horror novel, has been optioned multiple times, and it's been a fun education for me, reading those different scripts, and watching the narrative remade, reborn, in another writer's, or director's, vision (I'm especially excited about the current option). 
Right now I'm collaborating with a film writer on a possible series adaptation of my gay Victorian brothel love story, Under the Poppy—a trilogy, stretching over the lifetimes of the main characters, Rupert and Istvan. The grit and blood and velvet of that world, the handmade sex puppets and aristocrats' brooding brocade, are intensely tactile, and visual—like Baz Luhrman out on the town in Deadwood.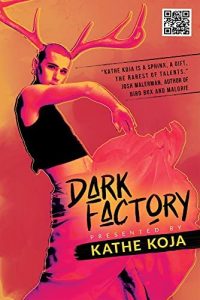 And my newest project, Dark Factory, is already so immersive—it's set in a dance club hovering at the edge of reality, with a site that branches off into art and sounds and video—it absolutely needs to be a film. Or a series. Or a VR series?   
Can you give some film recommendations for those who have liked your writing?
Find a film that you believed you absolutely couldn't watch, then watch it.