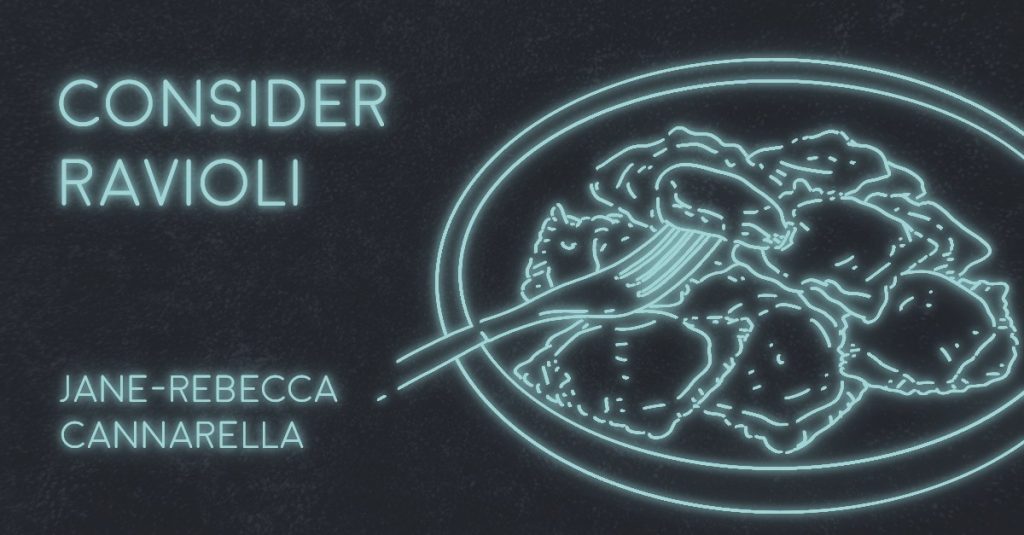 We're three in a row and it's warm like the way the bottom of a plate is hot and comforting after you microwave leftovers. Colleen and Sean both throw off heat to my right and my left, so much blue between both of them like the most blistering parts of a fire. And Colleen wants to know why no one will consider the plight of the ravioli. Pierogis and poptarts are pockets and appreciated. So she wants to know why I won't give ravioli another chance. What's to hate? We're calling them raviolis even though the word is already pluralized but it adds to the gentleness. My heart is all valves and pulleys; with blood sluggish in the in-between seat at the bar. Like three uneven legs on a stool, we fun fight in a rapidly unwinding late afternoon.  
Time is a fragmented line from a middle-school notebook, like how you start to write a note but then get called on to answer a question during class. Hours become skipping stunted pen strokes, and Colleen says she's going to open a ravioli stand and name it after me. A little plea for the pockets to get the grandstand they deserve. It'll make a killing. 
Everything needs a little more sympathy and people find comfort from other people. Like the way this dude at the bar who thinks Colleen is cute comes over and we pet his wool sweater. It's warm and tender like throwing spaghetti against a wall and it sticks because it's perfect. And who am I to hold a grudge? 
Nutrients are nutritious. What if I'm the disagreeable one here? The sort of disagreeable like a person yelling at you for making the meatballs wrong when all you wanted to do was cook your loved one dinner. And while I never ate the meatballs in question, I do know that they were perfect in the way that you just know something. It's the same way that bodies make their own lightning and it travels right to your sternum in shocks and surprises. That sort of knowing. Perfection doesn't go unnoticed if you actually care.  
And we are three in a row. Drinking past our bedtimes on a school night, maybe we'll stay at this bar in South Philly forever? But they're running out of red wine for Colleen. So I guess we have until the last mini-bottle of wine since it's the thread of time from the start of hanging out to the end. And until they cut the thread, we'll elbow lean on the glassy wood bar talking so fast. 
I am in the pocket of warmth and red wine is a river in the underworld pulling us all into the winter of the evening. For what it's worth, I would stay here for another six months with the three of us hothouse flowers blooming indoors during the coldest season. And throughout the frost, I could use the time left to consider the ravioli and all sorts of other things, too.