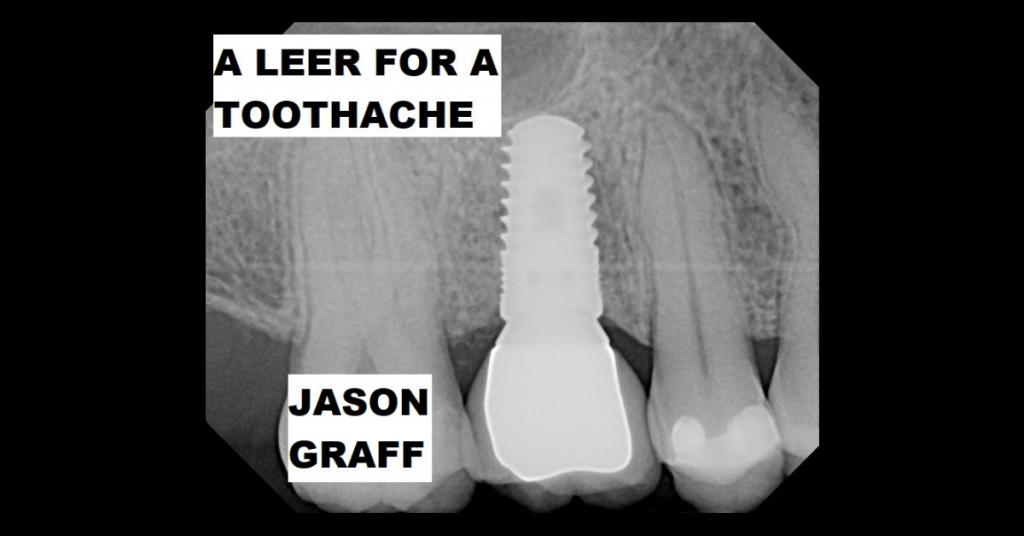 Katie just wants to rip it out. A length of string, some fortitude or, even better, a burly man in uniform, a marine or naval officer would do. Clearly, it was the eye tooth on the upper right side of her mouth that was the trouble. Why shouldn't a stranger pull it out? How much better would a dentist be than some twine, a golf cart and a driver with a heavy foot?
She sips her iced coffee through a straw whose tip has been stained by her lipstick. She knows she wears too much but "they" say men like it thick. And today isn't one of those days that finds in her in the mood to tell "them" to fuck off. For the last half hour, she's been working on some young guy who's looking to spend some of his father's money. She's tried to get him to see the wisdom in buying a place rather than renting one. He's got a red crew cut, an unusually ruddy complexion and 'Stacey' tattooed in cursive on the side of his hand. Whoever did the job didn't know how to do an S properly in cursive. It lacks the top loop. This bothers Katie almost as much as her tooth.
The kid leans further forward as she talks about the condos still available in the building. This guy's no marine but she thinks about asking him for help. A great investment of his time.
She cannot be sure by the way that he is looking at her if he is listening to what she is saying. Opening her bag, she places some papers before him to show him things in print that she has already said. Katie would feel better if his eyes were elsewhere.
She furtively checks the buttons on her blouse, as though his pale blue eyes might've slipped one loose through sheer effort. But of course he hasn't. Of course, he can't help her like that either. She touches her tooth through her lip. Well, her eyes ask him with finality, are we done here?