When the cockroach and I lock eyes, I'm almost relieved. You've half convinced me that I'm neurotic. You say I imagine the scrutiny of the old ajumas at the outdoor markets, the side-eyed stares on the train to Kimje, the personalized attack by the orangutan at the Taegu Zoo. Yet, I've caught these glossy black orbs peering at me from above the window overlooking the hall. A hand's-breadth from the closed classroom door. My only means of escape. I twist the pinching wedding bands your mother had made for me when we came back to Korea to exhibit our newborn son. She'd tried to convince me that her son and grandson belonged in this country, with her. It didn't seem to matter where I belonged. 
At last, I have proof that I'm being watched, but I hardly feel vindicated. 
Your metred baritone penetrates the wall between our classrooms. The machine-gun clatter of children's laughter and then a lull. Soon, the hall will fill with the youngest yuchiwon kids. If I don't make my move now, I'll have to wait for "Jake-teacher" to settle his next kindergarten class. I ease my chair away from the half-finished reports. I keep my eyes on the giant cockroach while I edge toward the door. 
Once I make it into the hallway, your voice booms. I glance into the window, watch the kids smother you. Black ants on honey. When I rap at the windowpane, the furrow dividing your angular brow crosses concern with annoyance. I raise my eyebrows and mime helplessness. This cannot wait.  
You brush off the children and line them up at the door. Soon, they screech toward the office to meet the piano teacher. 
Rather than explain, which would likely lead you to dismiss the cockroach as another over-dramatization and judgement of Korea, I say, "Just come. Please." You glance at your watch but follow.
Entering my classroom, I point out the intruder, still perched near the ceiling. You glance at your watch again, sigh and remove your polished shoe and climb atop a student desk. Thwack! As your shoe smacks the wall, the cockroach soars across the room and lands on my desk. You topple to the ground, your shoeless hand protecting your face.
I choke back my laughter but cannot conceal my grin as this tragedy becomes comedy. 
"It's a foreigner!" You spit the bitter words before you crush the cockroach between your shoe and my reports.  
My smirk melts from my lips. Twisting my wedding bands, I ask, "But how can you tell?" 
"Native cockroaches don't fly." You force your foot into its shoe and yank the shoelaces so hard I'm surprised they don't snap. Your gaze hooks into mine, and you add, "Foreigners can't be trusted to stay put."
The heat of your words stings my cheeks. The door thuds behind you. 
As I scrub cockroach remains from my reports, I picture the hefty white envelope at the bottom of my teaching bag. It's stacked with enough won to pay back my student loans. Almost enough to get our son and I settled back in Canada. I set my teeth, determined to leave before I, too, am squashed.
---
Rachel Laverdiere is a writer, potter and language instructor from Saskatchewan. Her writing is published in journals such as The Common, Atlas and Alice, The New Quarterly and Filling Station. Rachel's flash CNF was shortlisted for CutBank's 2019 Big Sky, Small Prose Flash Contest and made The Wigleaf Top 50 Very Short Fictions 2020. Her debut collection of essays is forthcoming later this year.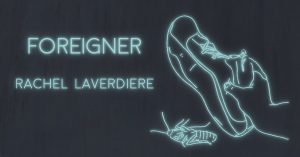 Art by Bob Schofield @anothertower