And Benny Jones telling me about Darlene. In other words, he pulled me through to unlove me. 
Something about how love is a crispy pepper one minute, but then it goes wilty and soft. I told him I'm not a goddam pepper and get to the goddam point. 
Problem is, I gave Benny Jones my heart too fast. My heart is a bristle I keep in my pocket and I can never wait to give it away. 
Benny Jones sat in the boat in the Tunnel of Love, all squirm and tangle of words. Friends, he was saying, and didn't mean to. 
Then he pointed to a pin's worth of light right there in front of us. "That's the future," he said. "It gets bigger and brighter the closer we get. All beautiful and warm." I told Benny to shut the hell up. If we're not a thing, we're not a thing, but don't go making a movie out of it. 
When we did get outside the Tunnel of Love, into the future Benny Jones had promised would be warm and bright, I didn't see anything. I didn't feel anything. Just thought back to that summer at my grandma's house, when her old dog, Punch, got a fever and she was going to shoot him. How I stroked Punch's tan fur, telling him, it's okay boy, when I knew damn well it wasn't. My heart wriggling around in my pocket even then with no damn place for it to go.
---
Francine Witte is the author of four poetry chapbooks and two full-length collections, Café Crazy and The Theory of Flesh from Kelsay Books. Her flash fiction has appeared in numerous journals and anthologized in the most recent New Micro (W.W. Norton) Her novella-in-flash, The Way of the Wind has just been published by Ad Hoc Fiction, and her full-length collection of flash fiction, Dressed All Wrong for This was recently published by Blue Light Press. She lives in New York City.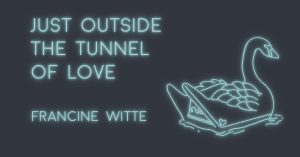 Art by Bob Schofield @anothertower